Conditions of participation 2020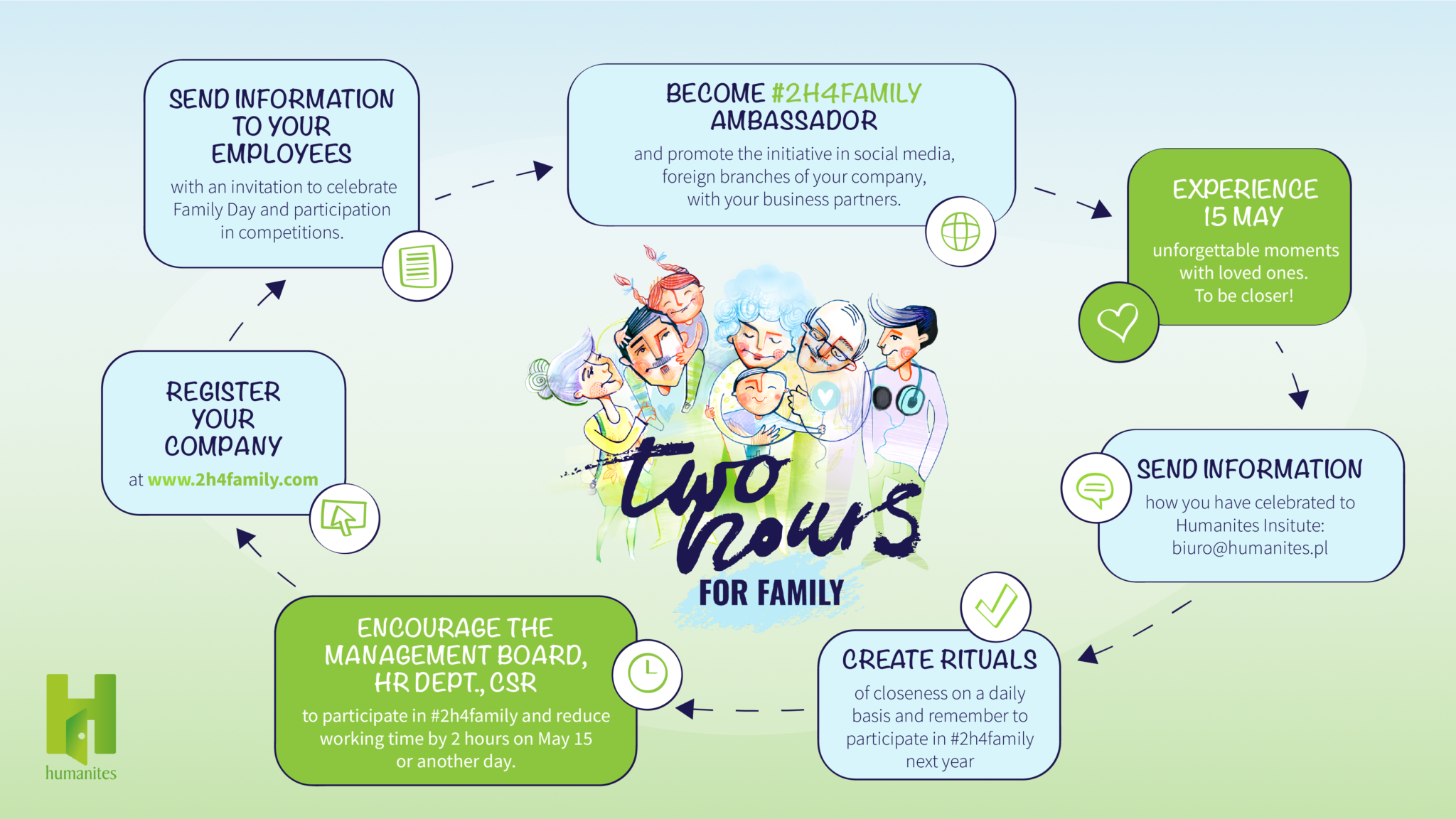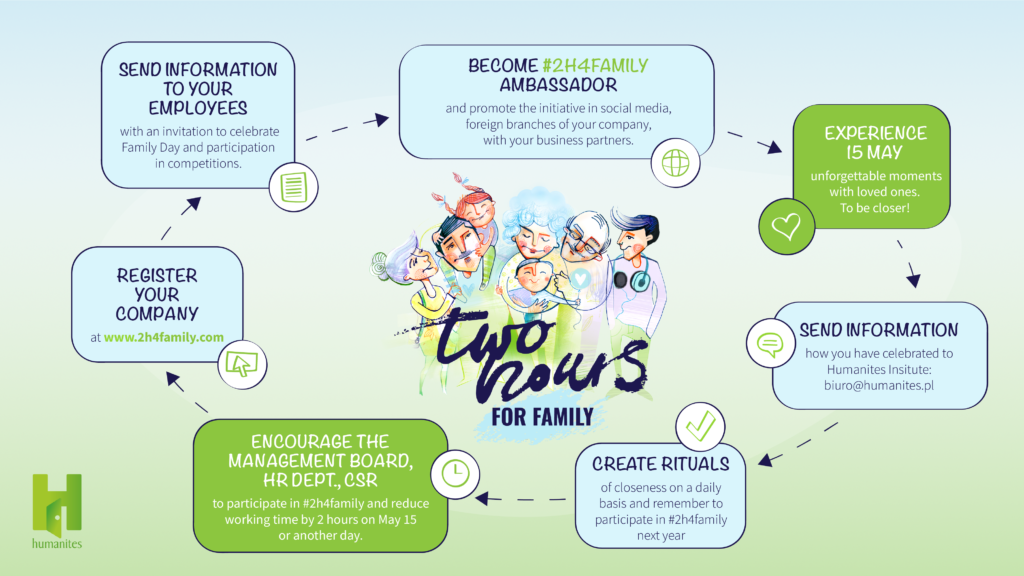 The Humanites Foundation would like to invite everyone to join the 9th edition of the social campaign for strong family relations called the Two Hours For Family. In 2012 our campaign initiated the Polish celebrations of the International Day of Families in Poland.
10th Edition of the Social Campaign
TWO HOURS FOR FAMILY
with the main theme
SPORT THROUGH GENERATIONS
15th May – the International Day of Families – is a perfect opportunity to stop for a while and think about what is important to us. Nowadays when the pressure and fast pace of living dictate the conditions, such a moment for reflection may be particularly important. Let us, therefore, ask ourselves a few questions: When was the last time I found out something new about my family and friends? When was the last time we spend some time together simply enjoying each other's presence? The idea of strengthening the relationship with our nearest and dearest is the key purpose of the Two Hours For Family campaign. We believe that curiosity, mindfulness and good conversations create beautiful, real bonds and that the indispensable element of that puzzle is time. We would like to encourage you to support your employees in building relationships with their families and give them the symbolic two hours, which they will be able to devote to some magical moments with their families. The main theme of this year's campaign is "SPORT THROUGH GENERATIONS".
Most families spend their days dealing with deadlines, tasks, errands, and other activities. Whether these are a result of work, school, extracurricular activities, or household duties, they often bring stress to our daily lives. By breaking away from daily routine you can get relief from the continuous stress and that could be good not only for your health but as a matter of fact for your whole family. Shared passions and sports activities, cheering for your favourite teams is a space that creates many opportunities to see your loved ones in a new light and understand them better.
CONDITIONS OF PARTICIPATION
There is no charge for participation in the Campaign. In order to take part, you should:
Sign up your company at 2h4family.com
Pass this information to the relevant department (HR, CSR, etc.).
Send the information to employees, inviting them to celebrate the Day of Families by enjoying a good, intergenerational conversation. Example of a letter to employees.
Reduce your employees' work time on 15th May by 2 HOURS or if your company's operational activity does not allow for it (customer service, continuous production process, etc.) propose a different way of celebrating this occasion in the upcoming days, e.g. combined with the Children's Day. Last year more than 90% of the companies participating in the campaign gave 2 hours off to their employees. The primary main aim of the campaign is not reducing the working hours on that day – but to inspire you and your employees to spend time on a good conversation, memories, get to know each other, search together for the identity of their family as well as strengthen their family ties.
Provide the Foundation with feedback on how your company implemented the TWO HOURS FOR FAMILY campaign, what message is eventually sent to employees, what additional activities, ideas were included in the campaign (e.g. family sports challenges, breaking own records, joint relay races, cycling trips, marathons with employees and their families, sports picnics, employee rankings of all-time selected by employees, etc.).
We would like to invite you to join the competition for the most interesting implementation of the Two Hours For Family campaign in a company. The awarded cases will be presented during a meeting summarizing this year's edition of the Campaign and described at 2godzinydlarodziny.pl / 2h4family.com.
Become the Ambassador of the Global Social Movement "TWO HOURS FOR FAMILY". If your company is a branch/subsidiary of a foreign company or you are a Polish company with subsidiaries abroad, invite them to join the Campaign. Become a part of the international movement for strong family relations.