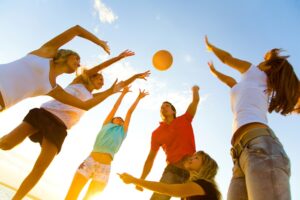 THE SLOGAN of the 10th edition of GLOBAL SOCIAL MOVEMENT TWO HOURS FOR FAMILY
Competition for The Best 10th Edition Slogan won by Ms Małgorzata Zacharewicz is
"SPORT THROUGH GENERATIONS"
As Jakub Błaszczykowski – the captain of the Polish national football team – once said –
"There is only one place in the world where I am important, where I am someone.
No matter how many goals we scored – will we win,
if we lose the match. This is home, this is my family.
I am a fan – just like you. I support the family. "
The Humanites Institute, as the initiator and organizer of the Two Hours for Family campaign, has been supporting the family from the very beginning. We are sure that the subject of sports gives many opportunities to build and cultivate intergenerational bonds. He is the subject of numerous conversations at family gatherings. Entire families support sports struggles in sport fields and ski jumps.
Most of us have a sports idol whom he tried to emulate in his childhood. It immediately becomes an opportunity to ask who was such a sports idol for mum, dad or grandfather. Remind famous athletes from years ago who for many generations paved the way to achieving the level of mastery in their disciplines.
We believe that physical activity and sport can be a great opportunity to see your loved ones in a new light and understand them better. In this way, we can find a common passion that will be an intergenerational bridge. Building and cultivating intergenerational bonds requires mindfulness, interest, conversation, and the proverbial doing something together.