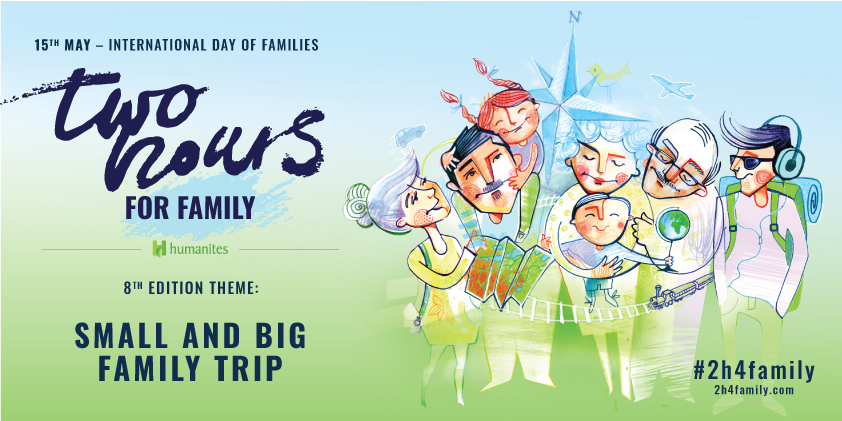 Ladies and gentlemen,
For the eighth year running, with great joy, we invite all employers to take part in the Two Hours for the Family social campaign. After 7 years of our activities, our campaign has expanded beyond Poland to become a response to global labour market challenges: the battle for talent, the integration of professional and personal life, and employer branding or labour market.
May companies often claim to value 'families'. The Two Hours for the Family campaign is an opportunity to convert words into action. By getting involved in the campaign, employers inspire their employees to spend their valuable time with their loved ones on May 15th, this year under the slogan:
SMALL AND BIG FAMILY TRIP

For this occasion, we've created the family game ASK ME, which helps players open up, learn about each other, and strengthen mutual bonds. Dedicated to families, ASK ME it is a game without points, competitiveness, and winners and losers. It is a game which teaches curiosity, cooperation, listening, and storytelling shapes empathic attitudes and promotes intergenerational integration.
ASK ME – available for purchase – would make a great gift to your employees. All details can be found at 2h4family.com.
It is sad, but many parents and educators have forgotten the importance of fun. With our fast-paced lives, strict schedules, and pressure to achieve, we forget about what's most important – happiness, joy and love.
Most of the people spend their days dealing with deadlines, tasks, errands, and other activities. Whether these are a result of work, school, extracurricular activities, or household duties, they often bring stress to their daily lives. By breaking away from daily routine we can get relief from the continuous stress and that could be good not only for health but as the matter of fact for your whole family balance and effectiveness in work.
The labour market is changing. Employers face a huge challenge: attracting and keeping the best employees. The concept of professional success is being redefined. 56% of employees surveyed defined professional success as "the opportunity to maintain a balance between work and private life". Consequently, 52% of the employees surveyed have rejected a job offer because of concerns that it would impede their work/life balance.
Employees choose to cooperate with organizations that share their values and have a specific social purpose. 83% percent of consumers would change brands if another, offering similar quality, supported a worthy cause. This trend also applies to employees – social goals are becoming a decisive factor for business. New generations entering the labour market show a high degree of social orientation and clear priorities. Yes, they want good salaries, but they also want their work to make sense and be meaningful.
To be a company which is successful both financially and in terms of social involvement, employers have to move away from random, spontaneous charitable initiatives to a strategic approach to creating systemic social change.
8 years ago, the Humanites Foundation launched an initiative to seek systemic solutions to support social transformation in Poland. It focused its activities on four key areas which have a significant impact on shaping the patterns and values of young people. These areas are:
The Family – from which our first impressions of life are formed;
The Work Environment – the place where we realize our potential and to which we bring our values and models;
The Education System – where children and young people spend most of their time in the classroom and in the context of peer groups;
Culture and Media – these have great influence in shaping society.
The Two Hours for the Family social campaign engages all these areas in the implementation of one common goal. We believe that the reconstruction and strengthening of intergenerational family and social ties are the foundation for the development of the next generation's identity. These days, the family, its environment, and its functions are constantly changing. These changes result from social and economic developments, as well as many other factors. On the one hand, we observe the erosion of traditional family patterns and relationships, and on the other hand, the question arises – what family values and models should we replace them with?
We believe that business is a key force for social change, which is why the Two Hours for the Family campaign is targeted at employers, and through them to their employees and their families. The campaign reaches more people every year. Last year's edition was embraced by several hundred companies, large capital groups and public institutions, as well as universities and local governments in Poland and abroad. Among them were such companies as: Alior Bank, Allianz, Aviva, ATM, ATOS, AXA, Bosch, EFL Group, ENEL-MED, Erbud Group, Electrolux, GFK Polonia, Great Place to Work, ING Life, K2, MetLife, Microsoft, PKN ORLEN Group, Oracle, Pentacomp, PKO PTE, PKO BP Group, PwC, Questa, Siemens, Tauron Group, Tchibo, Wedel, Wirtualna Polska, EY, and many, many more.
Important social objectives cannot be achieved without cooperation. Therefore, we warmly invite employers in Poland and around the world to take part in the Two Hours for the Family campaign. We sincerely hope that our joint actions will become a global movement for deepening relationships with loved ones.
More information and the application form can be found at 2h4family.com. Please share this information with your business partners. Inspire others to act.
Sincerely and with best regards,
Zofia Dzik
Chairman of the Humanities Foundation